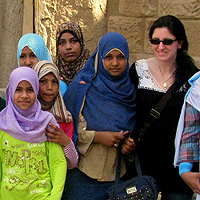 While she was in the States, she talked to school children and students at UofL, attended a football game and the State of the University address as guest of President James Ramsey and caught up with friends and family. The whirlwind pace left her barely able to catch her breath.
UofL Today caught up with her via e-mail in Oxford, England, to ask about her time at home and the next step in her journey.
UofL Today: You are quite a celebrity here and throughout eastern Kentucky. What's that like?
Marks: I've received some of the warmest welcomes of my life these past few weeks, both in eastern Kentucky, where I'm from, and in Louisville. Winning the Rhodes has been a sort of team gift — recognition and reaffirmation for my parents, communities, schools and teachers as much as an individual honor for just me. No one achieves a difficult victory without the help of others. Almost every Rhodes Scholar I've met shares a healthy recognition of their own fallibility — some combination of skill, outside assistance and sheer serendipity has led us to this point, and at the end of the day we're not very much more qualified than the 8 or so regional finalists with whom we competed on interview day.
To answer your question more directly, though, I view the idea of celebrity status — at least at this point — with a wry grin and a grain of salt. I'm 24 years old, and am just beginning to embark on the projects that I hope will change my life and the lives of at least a few other people in this world for the better. While I am immensely grateful for words of praise and congratulations, I think the pomp and circumstance of the Rhodes title itself tends to obscure bigger, more important questions. How does one become a Rhodes Scholar? Are these people blue-blooded mega-intellects? Have they all founded orphanages in China or wheelchaired across India, or are they mere mortals, like you and me? I recall asking myself those questions, with a feeling of shaky uncertainty, as I thumbed through the 2009 pamphlet of American Rhodes Scholar bios. Why am I applying for this thing? It felt like a shot in the dark.
Now, after having spent the past couple of weeks with Rhodes Scholars both in D.C. and here at Oxford, I can tell you with confidence that Rhodes Scholars are indeed mortals. I would never be in this position if it wasn't for the generosity of various scholarships, both from the government and private donors, that have sent me everywhere from a gifted teenagers' summer camp to the University of Louisville to three different Middle Eastern countries. I am not a star athlete, I'm terrible at mathematics, and my parents did not finish high school. I'm not the only one. None of us angled from birth to become Rhodes Scholars, and all of us feel on some level immensely surprised and lucky to have received this incredible gift. Two years of study and self-exploration at Oxford University, a fascinating group of people to grow with and learn from, freed from the worries of paying tuition fees — it is an amazing opportunity.
Like so many of the Rhodes Scholars, I would much rather people hear my story and find some shred of inspiration than be intimidated or overawed by a seemingly unattainable title. I would much rather discuss my travels in the Middle East and sub-Saharan Africa, or perceptions of Islam in the United States, than my personal roller-coaster ride of 15-minute fame. The Rhodes scholarship is not, to my eye, an award, an end unto itself. It is a challenge to, as Cecil Rhodes urged his future scholars, fight the world's fight. We all have different notions of what, exactly, that fight is — curbing the threat of environmental degradation, resolving conflict between ethnic or religious groups, expanding civil liberties to traditionally marginalized groups, diminishing the number of nuclear weapons floating around our globe. I'm still figuring out what my fight will be. We each have a contribution to make in improving this world. Rhodes Scholars, as people who deeply committed to public service, tend to be a very interesting focus group in terms of leadership and change-making. I think we'd be better served by tapping into their backgrounds, motivations, and ideas rather than focusing rather narrowly on the experience of wearing a title.
UofL Today: How many groups of school kids did you talk while you were home? Why is it important to you to do that?
Marks: I visited both my alma maters — Russell High School, in eastern Kentucky, and the University of Louisville. An assembly was held at Russell High, during which I was invited to speak to the student body. I spoke with a number of classrooms at UofL, RHS, and Russell Middle School. These visits were the highlight of my recent trip to the States.
Absolutely nothing is more crucial than education, not merely 'education' in terms of cramming for tests and pattering out essays, but education in the fullest sense of the word — the eagerness to challenge assumptions, a thirstiness for new ideas, a readiness to jump into the world and sponge it up fearlessly. I feel that for many students education is rarely presented as a courageous pursuit, as a way of transcending the sometimes unfounded judgments and narrow strictures of our communities. I want students to see liberation in education, even a bit of rebellion now and then. I want them to surpass stereotypes and sound bites, to reach out and engage the world on a global scale, learning new languages, understanding different religions and political systems, having the courage to examine perspectives that conflict with their own.
I often speak in personal anecdotes based on my own experiences, as a 24-year-old woman who has traveled — most always alone — through Syria, Turkey, Lebanon, Bosnia, Egypt, Tanzania, and a whole host of other places that we as young people in America have often been taught to fear with almost knee-jerk reactionism. I emphasize that education in its fullest sense requires us to engage critically with the world around us, not allowing anything — anything — to keep our minds on a leash.
It's so important to give back. Throughout the course of my education I've had many people invest in me — people who saw potential in me. Professors who mentored me, taxi cab drivers in Cairo and Damascus who shared their stories with me, young mothers riding beside me on Turkish buses who inspired me with their generosity. People who, down the line, have encouraged me to give what I've got rather than feel powerless in the face of seemingly intractable obstacles. I know what obstacles feel like. I grew up in a religion that systematically discouraged 'higher education.' As a first generation college student, I was terrified by the prospect of financing a college education. I didn't realize that seeing the world and learning foreign languages could be funded — for free — through a host of scholarships. I was turned down for a great many scholarships and academic awards. I failed tests. I seriously doubted I was the kind of person the Rhodes Scholarship committee would select.
But I had a lot of help, and I worked extremely hard, and here I am — sitting in my room at Oxford University, looking out over this eerily magnificent skyline punctuated by Gothic spires and Medieval towers. I want to share that with people younger than me — many of whom have the same fears and uncertainties I did when I was their age. I want them to know that they can Facebook me with concerns about studying abroad, or e-mail me application essays to edit. I want to be part of their network, to be there for them like so many others were for me. Because the entire point of learning is to pass it on.
How is Oxford so far?
Oxford is a peculiar, charming, truly mysterious sort of place: Narrow cobblestoned streets wend their way through high-spired college towers, and 20-somethings with their minds abuzz ride bikes over sidewalks and streetways. Books are absolutely everywhere. So are pubs. Students comprise two-thirds of the city of Oxford, and there's a real pulse about the place – even if the weather is dark, dank and dreary. I feel like I've leapt into the liveliest pit of intellectual stimulation imaginable — everywhere, people with questions, people with ideas, people from every part of the globe.
Dark wood and stained glass cover the old libraries and chapels scattered throughout Oxford's 38 colleges. My college, The Queen's College, was built in the early 1300s. It's like living in a museum. As you might imagine, Oxford hangs onto traditions in some ways — next week I will have to don an odd sort of Dracula-esque cape and stringy black tie for a mandatory matriculation day event called 'sub-fusc.' People here seem delightfully quirky. Oxford seems, by turns, strangely inefficient (wireless internet is a rare, rare thing in this university) and fantastically innovative (you can crash any lecture at the university, entirely unannounced, regardless of whether or not you are assigned to that particular class). There is real character, and a flavor aged over hundreds and hundreds of years here. It's a delightfully vibrant, book-laden town, absolutely addicted to learning. I'm loving it.
Explain a little about Oxford's colleges. What are you studying?
The Queen's College is one of 38 colleges that comprise the University of Oxford. The college concept is very foreign for Americans, and seriously bewildered me until about a week ago when I flew here from D.C. with the other Rhodes Scholars. Basically, depending on your status as an undergraduate or grad student, and depending on which degree you are reading (i.e. studying) for, you'll have the choice of a handful of those 38 colleges from which must join only one. Generally, a student will live in his or her college, take meals there (there are very swanky, sort of Tudor-style dining halls in most of the colleges), and enjoy various social functions there as well (each college has its own beer cellar, if that tells you anything). It's like a small, self-governing community within the larger university community. It's a pretty interesting concept, and there's nothing quite like it in the States.
I am reading for a two-year MPhil (that's the British equivalent of a master's degree) in modern Middle Eastern studies. That is my formal degree title. I will most likely continue to focus on Islamic law and comparative human rights in the Middle East throughout the course of my study. This is, of course, subject to advisers' approval and whatever new topics I might find wholly captivating during my time here. If I can obtain funding to complete a DPhil (doctorate), I may stay an additional two years at Oxford and do that, too.