Everything goes into the sewers – human, animal, commercial and industrial waste plus dust, chemicals from the air, streets and soil and more. The pipes are a gold mine of information about the health of people in the community and substances in the environment that may affect their health.
At UofL, researchers in the Christina Lee Brown Envirome Institute are pioneering new methods to extract all  that information from the wastewater. Building on techniques and collaborations developed to monitor COVID-19, they are exploring new ways to track not only infectious diseases but also chemicals, metals and biomarkers at a neighborhood level to reveal possible connections between those exposures and a myriad of health conditions.
"We are the only university that is actively looking at wastewater for such a wide range of targets, and we have assembled a large group of individuals exploring this area of research," said Ted Smith, professor of medicine and director of the Center For Healthy Air, Water and Soil, part of the Envirome Institute.
Research spawned by the pandemic
At the pandemic's start, Smith led a team of researchers developing processes to monitor wastewater for SARS-CoV-2, the virus that causes COVID-19. The work was part of the Co-Immunity Project to track the virus and its spread in the Louisville area in collaboration with the Louisville Metro Department of Public Health and Wellness.
Through a cooperative research agreement with the Louisville/Jefferson County Metropolitan Sewer District, the UofL team obtained weekly samples from 17 key catchment areas in the sewer system and analyzed them for the presence and concentration of SARS-CoV-2 particles flowing through each sample point. The data was reported to the health department, allowing officials to anticipate increases in infections and to focus testing and vaccination efforts in geographic areas with a higher concentration of the virus.
"Wastewater is an anonymous, passive and more reliable way to track SARS-CoV-2 in the community than testing individuals," Smith said. "We were able to track the virus by concentration, variant strain and geographic area about two weeks ahead of clinical results reported by the health care system, so we were able to create a more accurate picture of the virus in space and time."
Eric Rouchka, professor of biochemistry and molecular genetics, spent two months establishing and refining the data analysis process to get the genetic information needed to identify variants and better assess the concentration of virus shed in the areas flowing through the sample points.
"The first question was, would we be able to actually sequence the whole virus genome?" Rouchka said. "Once we figured out we could do that, we spent time getting down a process to map the reads back onto the genome and determining which variants of concern were in the data."
They streamlined the process to rapidly analyze the samples and delivered 87 weekly reports to health officials.
What else can we learn from wastewater?
Emergency funding from government and private sources, an all-hands-on-deck attitude and the rapid development of new techniques in response to the pandemic provided the UofL researchers with new knowledge, partners and expertise in wastewater surveillance. As the need for COVID surveillance subsided, the team explored other information that could be gleaned from the wastewater, including other pathogens, toxic chemicals and biomarkers of human disease.
Rouchka, working with Melissa Smith, director of the UofL Sequencing Technology Center, started by taking a broader approach to infectious diseases. They are putting the finishing touches on a process that will allow them to detect and quantify not only SARS-CoV-2 and its variants but also multiple pathogens such as influenza, polio, RSV respiratory virus, mpox and other diseases from a single sample.
"The work done with SARS-CoV-2 allowed us to pivot and now be able to address other pathogens and to analyze similar types of data sets so if – or when – the next thing comes down the pipeline, whether it's a virus or bacteria, we should be able to step into the analysis fairly quickly once we have a sequence of that genome," Rouchka said.
Mapping the 'exposome'
Christopher States, director of the Center for Integrative Environmental Health Sciences, is taking an even deeper look at sewer contents.
"Everything winds up in the wastewater. You get stuff rained out from the atmosphere, the dust. Everything everybody eats and drinks eventually winds up in the sewers. So, you'll get that whole entire spectrum," States said.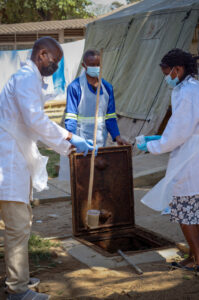 That spectrum is part of the "exposome," which is everything an individual is exposed to in a lifetime and how those exposures relate to health.
States is using UofL's wastewater expertise in a pilot study to identify the many pathogens, contaminants, metals and other substances in the sewers and show their prevalence by geographic area. He will use the information to map Jefferson County's exposome.
"We have an incredible resource here in the wastewater project that's been going on for viral monitoring," States said. "We're just expanding upon that."
States worked with MSD and Smith to identify 27 locations in the Jefferson County sewer network for sampling. The first set of samples is being tested for metals at UofL's Omics and Exposure Facility Core for metals and at a sister NIEHS core at Emory University, which uses mass spectrometry to identify thousands of nonmetal substances.
"Along the I-65 corridor, I would expect to see high levels of platinum, which is emitted from catalytic converters on the automobiles. We're going to see volatile organic compounds in that area, which the Superfund Research Center is interested in, and in the Rubbertown area. We should be able to see big differences in the profiles throughout the county," States said.
He plans to overlay the exposure data from the wastewater with human health information for the same areas to see if there are correlations between specific exposures and health risks. Ongoing sampling and testing over time could provide data showing connections between toxins and both infectious diseases and chronic conditions that take decades to develop such as heart disease, type 2 diabetes and cancer.
"When it takes 20 years for something to manifest, you know people are exposed to a whole lot of things over that time. Whether you can say this thing that happened 20 years ago was the initiating event is very difficult to prove," States said. "My hope is that people will do these mappings periodically for years and see what happens."
Crossing borders
As the COVID-19 pandemic began, wastewater epidemiologist Rochelle Holm was working in sanitation, rural water supply and public health in Malawi in southeastern Africa. With international borders closing, she evacuated to Louisville. When it became apparent her stay would be more than a few months, she enthusiastically joined UofL to lend her unique experience in sampling and analysis to the wastewater project.
"All of a sudden in a pandemic, how to collect wastewater, especially focused on community monitoring, was a needed skill," Holm said. "My work in Malawi is very related to the work that the Envirome is doing in Louisville, so it was a unique fit to my background and skill set."
Now back in Malawi, Holm has resumed her work in sanitation public health as a UofL associate professor. Prior to the pandemic, her group tested pit latrines for cholera and other diseases but had to send the samples to the U.S. for testing. Through her UofL partnerships, Holm now has access to clinical PCR (polymerase chain reaction) testing in Malawi and, with funding from the Rockefeller Foundation through the Envirome Institute, she is working on a multipathogen surveillance project to see if the new lab methods can be applied to wastewater testing.
Holm also is mentoring Ben Smith, a UofL medical student in the Distinction in Global and Public Health track, who is reviewing published studies to catalog pathogens previously identified in wastewater in low- and middle-income countries. He plans to travel to Malawi in 2024 for additional research with Holm.
Another student, Dhiraj Kanneganti, a senior at Louisville's duPont Manual High School, is completing a two-year internship with the Envirome Institute where he led a published study using machine learning to assess wastewater treatment plant flow rates.
The wastewater research has led UofL faculty to build collaborations locally with government, industry and utilities and, through the Rockefeller Foundation Wastewater Action Group, with other researchers around the world.
For Ted Smith, the work aligns perfectly with the Envirome Institute's new vision of health. "Broadly, we are looking at environmental exposure as a way of understanding health, health risk and health equity," he said.
"Wastewater is a promising avenue for tracking and connecting places with these exposures and health issues. We are expanding and sharing this knowledge to improve lives around the world."