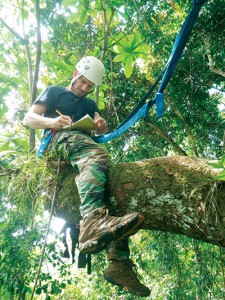 Perched high on a limb of a tree above the rainforest floor, Dr. Steve Yanoviak places a little piece of bait on a branch and patiently waits for ants to find it. He collects them quickly and logs the results for research. Meticulously, and painstakingly, Yanoviak continues this process over and over.
Yanoviak is curious about what happens to ants when they fall nearly 100 feet to the forest floor below him. When curiosity gets the best of him, he gingerly flicks one off. What happens next is something he never expected.
Fueling a Fire
Yanoviak expected the ant to hurtle toward the debris, leaves and undergrowth, but instead, the ant glided left and right, homing in on the tree from which it was just launched into the air. This sparked an interest in Yanoviak that he couldn't shake. And when the same occurrence happened with more ants in a different forest several years later, he had to find out why.
That kind of inquisitive nature led Yanoviak down a scientific path from an early age. He had always shown a keen interest in insects, and his parents encouraged the entomological inclination throughout his primary and secondary education. So when the time came for Yanoviak to pursue an academic career, he took full advantage of his lifelong interest and passion for scientific exploration, and he earned a PhD in zoology from the University of Oklahoma.
In 2012, Yanoviak joined UofL as the Tom Wallace Endowed Chair of Conservation in the
College of Arts & Sciences, where he currently teaches several courses related to biology and ecology. When he's not in the classroom, Yanoviak is in the field, observing species in their natural habitats, collecting data and overseeing a team of undergraduate and graduate students.
The field is where Yanoviak feels most comfortable.
"I consider myself a community ecologist. I investigate the biology behind a certain community," said Yanoviak. "And I love doing fieldwork. I love being in the forest."
A Work of Passion
Defining a community ecologist is like describing a Renaissance man. When it comes to researching tropical forests, there are so many actors and scenes in play that it takes a special sort of scientist, one like Yanoviak, to bring it all together.
"Steve is like an idea factory. He has so many good ideas, so he's able to reach out to different students or post-docs that do varied things and build a team. In our lab, we all have a common thread — and that's the forest canopy," said Max Adams, a graduate student in Yanoviak's lab.
While the high-reaching canopy sets the stage for their research, the UofL team assembled by Yanoviak has different areas of expertise.
Yanoviak still studies how ants glide and has become the leading expert in the area. He's even branched off this focus to study how some species of ants have adapted to have the ability to swim. And because ants are found on every continent but Antarctica, the world has become his lab. He's conducted research in a number of places, including Africa and South America, and he's published numerous papers and has spoken at esteemed scientific conferences around the globe.
Like Yanoviak, Adams has always had a fascination with insects – particularly ants. After carefully following Yanoviak's career and research, Adams chose to follow Yanoviak at UofL to complete his PhD. "I've studied ants since I was six, and my hobby is climbing. Coming here to study under Steve was a perfect match."
Adams researches lianas, which are vine-like structures that flow from tree to tree. Primarily, he's determining how lianas function as highways for ants and how species vary in the forest canopy depending on how lianas connect trees.
Evan Gora, another graduate student, also respected Yanoviak's work enough to choose UofL as his place of research. "As an undergraduate, I worked with a renowned forest ecologist who introduced me to Steve, and we ended up publishing a paper together."
Gora's research focuses on how lightning affects the trees in the tropics, which is part of a relatively new direction that Yanoviak has been developing over the past three years. There's still not an understanding of how lightning functions ecologically. Researchers like Yanoviak and Gora are learning that, in some instances, what is thought to be the death of a tree brought about by disease is actually caused by lightning – and lianas may act as natural lightning rods.
Dr. Alyssa Stark, a post-doctoral associate, jumped at the chance to join Yanoviak's team. Stark met Yanoviak at a Society of Integrative and Comparative Biology conference in early 2014.
"Steve offered me something different. He offered me fieldwork. And this position gives me a chance to talk to a strong field biologist in a lab that's focused on bringing in interesting ideas that fall outside my background."  
Research 101
While Yanoviak allows his graduate and post-doc members to focus on their own research, he's keen on introducing undergraduate students to his field of study.
"I got my start in professional science as a lab tech washing glassware, helping enter data and helping collect data. For me, it was valuable because it made me feel like I was part of the culture, and a lot of being a productive scientist is understanding the culture," said Yanoviak.
Noah Gripshover, a sophomore biology major with a focus on ecology, works as a tech in Yanoviak's lab and will travel with the team on a fieldwork expedition this summer.
"Being able to learn about ecology from different perspectives is exciting," Gripshover said. "Working with Dr. Yanoviak is easy to me because I'm doing something I like, but I didn't think I'd be working with ants. That's exciting."
Yanoviak's position on including undergraduates in fieldwork is echoed by Gora, who brings Gripshover along for locally based experiments. "Field research as an undergraduate is huge. It influenced the trajectory of my life. I did research for a summer as an undergraduate, and I found out very quickly that this was where I wanted to go."

An Influential Network
When Yanoviak came to UofL, he brought not only a wealth of experience and a hunger for biological research but also resources that have improved
the learning experience for undergraduate and graduate students.
One such resource is his connection to Barro Colorado Island, an island in Panama that was formed as a result of the construction of the Panama Canal. Administered by the Smithsonian since 1946, Barro Colorado is one of the world's most protected and distinguished areas for studying rainforest communities and ecosystems. Scientists from around the globe travel to Smithsonian Tropical Research Institute, and among them are Yanoviak and members of his team.
Tropical forests have been decimated by deforestation and development, and Barro Colorado Island provides an ideal location for Yanoviak to conduct his research. By bringing the opportunity to study there to UofL, he is not only providing a setting for world-class observation and research, he's also able to expose his students and teammates to the leading names in biology.
"Some of the most important people in our field are people that we now know on a first-name basis. Steve encourages us to collaborate with them, and that's a huge advantage we have here," said Gora.
Making Research Matter
Yanoviak is an unapologetic scientist. Because of this, he's constantly thinking of new concepts to discover – a trait that he would tell you is shared among members of the scientific research community. Yanoviak has built a solid career and is a distinguished professional in his field. Now, through his teaching and mentorship, he's passing that torch to a new generation of scientists.
But in an age of scientific commercialization, is there room for basic discovery?
Adams believes there is. "We're interested in research for the sake of research. Penicillin was discovered because someone was funded to study mold on oranges."
The challenge for scientists like Yanoviak is getting those outside the field to understand the importance of the subject matter. Often, gaining just a basic grasp of the fundamentals is a tall order, especially when funding is involved.
But Yanoviak is tenacious. He believes his research could lead to a discovery with major implications on how we live – or how we're going to live. "There's still a lot going on in the rainforest that we don't understand. That's the part I like. We think we know what's going on, but then we observe something that changes how we view the whole system. We're seeing that climate change could be affecting the rainforest canopy, particularly lianas, right now. That gives us a basis for what to look for in the future as weather patterns continue to change."
This influential outlook is clearly evident to those who work with Yanoviak.
"Basic science is the frontier that we have. Frankly, we don't know much about the planet that we live on," said Adams.
Thankfully, there are determined researchers like Yanoviak out there learning more and more every day.