Going to college is often a transformative experience for students — living away from home for the first time, meeting people from different backgrounds, becoming exposed to new ideas and beginning to define their own views.
But for the students profiled here, college wasn't so much a chance to chart new territory as it was an opportunity to find solid ground after years of turbulence and uncertainty — from growing up in a refugee camp, raising a newborn at the age of 20, or caring for an ailing mother while in high school.
And yet these students not only overcame the tremendous challenges in front of them, but went on to exceed all expectations — including their own. "To actually graduate is one of the biggest accomplishments of my life because for a while, I honestly didn't think it was going to be possible," said Jaydee Graham, a single mother who graduated from UofL in May with honors with the help of the Family Scholar House and is now pursuing her master's in social work.
Perhaps most remarkable, however, is the humility, gratitude and graciousness that characterize each of these individuals. They are quick to recognize the people who helped them along the way, and eager to express their appreciation for theopportunities and assistance they have been given.
Noor Yussuf, a Somali refugee and UofL graduate, explained that his father works hard as a cab driver and his mother as a machine operator "so my siblings and I can take advantage of the opportunities offered in this country. They are what motivates me every morning to wake up, to work hard and to do my best."
They're also grateful for the community and support they found at UofL. Kayla Davis, a recent graduate who serves as the primary caregiver for her disabled mother, said she was overwhelmed at the response from her Admissions Office co-workers after one of her mother's surgeries. "They were bringing dinner not only for me, but also for my sister and brother-in-law. They were calling me, they were checking in on me. I didn't expect that from full-time staff, taking me in like that." And now Davis, Yussuf and Graham will all go on to pursue careers that allow them to give back to the community that helped get them where they are today.
As teachers, social workers and non-profit leaders, they'll serve as models for what a person can achieve with perseverance, dedication and heart.
Pressing Forward
to overcome all obstacles
When Kayla Davis was a senior in high school, she had no idea how she would pay for college, or if she would even be able to attend. At the time she was the main caregiver for her mother, who was confined to a wheelchair after a lengthy hospital stay. Doctors told her mother that she wouldn't live to see Davis graduate high school.
But if there's one trait that runs in Davis's family, it's perseverance. With the help of a Cardinal Covenant scholarship, Davis was able to attend UofL and graduated with a bachelor's in early childhood education. And her mother? She had a front row seat to see her daughter walk across the stage and receive her diploma.
"My mom is strong willed," Davis said. "And if there's one thing I'm thankful my mom passed on, it's her strong will. She's willing to do whatever she can within her means to help me succeed."
In between taking her mother to doctors' appointments and helping around the house, Kayla maintained excellent grades at The Brown School (a K-12 public school), where she also tutored younger students. It was in a senior seminar class at Brown that she learned about the Cardinal Covenant program, which provides full scholarships to Kentucky students from low-income families.
Determined to go to college, Davis earned a Cardinal Covenant scholarship and admission to UofL, where she majored in early childhood education. She was inspired by the care and support she'd received from her teachers at Brown, but also by the faculty at UofL. "Once I got into the education program, I could really see myself doing this as a profession," she said. "I saw people who understood the different realities these kids are going through."
But it was through her work-study job in the Office of Admissions that Davis truly found a place she could call home. "Once I got to campus, especially once I started in the admissions office, I found my true Cardinal family," Davis said. Her motivation and diligent work ethic earned her the admiration of Jenny Sawyer, Executive Director of Admissions, who she assisted for four years.
"Because of what she's had to handle in her personal life, Kayla's always had that maturity and responsibility," Sawyer said. "Resilience is probably the best word to describe Davis. She continues to find a way to stay focused on school through each one of the life challenges she's had."
Already pursuing a master's degree, Davis looks forward to the day when she'll have her own classroom. "If I could say that I've impacted as many children as my role models have, I feel like I'd be doing good. I want to teach forever."
Giving Back
at home and abroad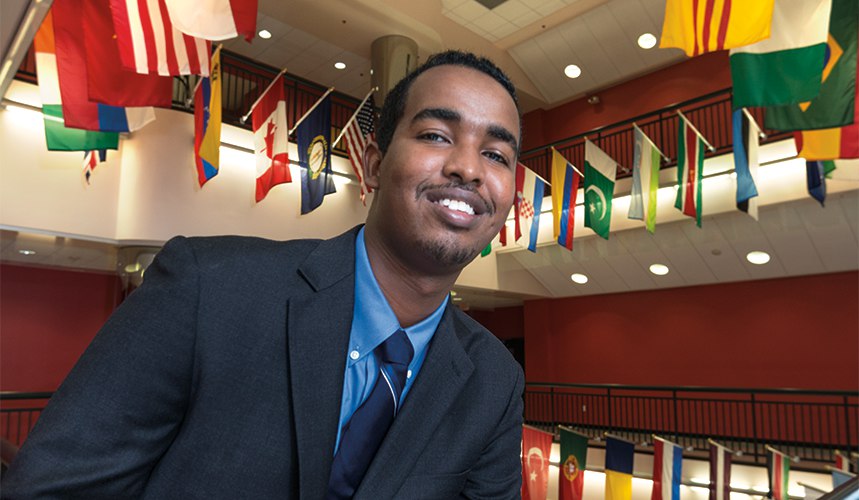 For most students, college is a time filled with new and different experiences, people and cultures. But for Noor Yussuf, college wasn't just a new world — it was an entirely different continent.
Born to Somali parents, Yussuf spent the first 17 years of his life living and attending school in a refugee camp in Kenya. His parents and six siblings settled in Louisville in 2007, and Yussuf was able to join them two years later. He admits that, as a teenager, "it was a very challenging transition. Friends were important to me, and coming here, I had to meet new people, and that was really tough at the beginning."
After arriving in Louisville, Yussuf began his junior year at Waggener High School, where he earned the UofL Yarmuth Book Award, which recognizes high school juniors who show academic promise and a commitment to community service. The following year, Noor not only earned admission to UofL, but significant financial awards as well, including Denny Crum, Coca-Cola and KFC scholarships.
Once on campus, he immediately set out to find a community of his own. "I wanted to find myself at UofL," Yussuf said. He reached out to the Office of Student Involvement and took on various roles in the housing department, including work as a resident assistant for three years.
"When I started as a freshman, I didn't know a lot of people," Yussuf explained. "But people took me under their wings and offered me the opportunity to grow as a person. And so I became a resident assistant to do the same thing for others."
One of those friends Yussuf made was Nick Peak, a fellow economics major and resident assistant. "Noor always had fun ideas for hall programs and constantly strived to make the living experience better for residents," Peak said. "And if you couldn't find Noor at the dining hall or in the residence hall, he was likely studying at Ekstrom Library."
Now as a graduate with a bachelor's degree in economics, Yussuf's long-term ambition is to earn his PhD and work with developing countries through organizations like the United Nations and International Monetary Fund. "If I become a good economist, I could help developing countries figure out how to use their resources and economically develop their people," he said.
Yet before that, Yussuf feels it's important to give back to his community "in appreciation of what I was offered," he said. So this fall, Yussuf began a two-year contract teaching high school math through Teach for America, an organization that enlists high-achieving graduates to teach in low-income communities throughout the country.
Whatever distances Yussuf's career takes him, he'll never forget the community he forged here in Louisville. "I really appreciate my time here at UofL and the friends I've made, and I'll always be grateful for that opportunity. UofL will always be my home."
Inspiring Others
to pursue their dreams
College students are frequently sleep-deprived, but it's usually the result of too many late-night study sessions followed by weekend parties — and not, as it was in Jaydee Graham's case, due to caring for a newborn in the wee hours of the morning.
Already in an unhealthy domestic environment, Graham was 20 years old when she found herself pregnant and knew that her life had to change. She moved back home to Louisville where she applied to the Family Scholar House, a local nonprofit that gives single-parent students the housing and support they need to complete a four-year college degree. Soon, she and her son, Barret, were moving into their own apartment on a Family Scholar House campus.
"It was just a great new chapter of our lives," Jaydee said. "We grew as a family there. What was amazing for me was when I walked into orientation and felt that I was actually being looked at as an individual who was worthy of success. It was great to be in the company of people who completely understood."
Within months of being accepted into the program, Graham was enrolled as a full-time student at UofL's Kent School of Social Work, fueled by a passion to help other teen parents and young victims of domestic abuse.
Graham admits, "going back to school full-time and being back on campus was overwhelming at first." But she immediately took to her new surroundings. "I love University of Louisville's campus. It's beautiful, and it's very welcoming. There's a sense of belonging here."
Though not a strong student in the past, Jaydee found a new sense of purpose and academic drive at UofL. "She's really come into her own since she's been here," said Kate Brackett, Community Integration Specialist at the Family Scholar House. "She's definitely one of those people who, when she puts her mind to something, there's no question that she's going to be able to accomplish it."
Not only did Graham graduate from UofL with honors, but she also served as valedictorian of Family Scholar House's graduating class and spoke at their graduation celebration. Not one to rest on her laurels, she began earning her master's degree in social work at the Kent School this fall while also working as a resident counselor for pregnant and parenting teens at the Home of the Innocents and interning at the Family Scholar House.
"There's a quote by George Eliot that I love to use," Graham said. "'It's never too late to be what you might have been.' So I want to encourage all the other young women out there to press forward and chase after your dreams. Because it is possible."