Beautiful Antebellum houses once lined the streets near "The Point," one of Louisville's oldest areas that runs parallel to the Ohio River. That all changed, however, in 1883, when the Ohio River breached a levee, putting The Point under 30 feet of water.
The area took another hit with the great flood of 1937, which rendered the once-vibrant area useless. So profound was the damage, in fact, city administrators turned parts of the area into the Ohio Street Dump. The dump was initially filled with refuse from flood-damaged homes.
In 2009, a new vision for the land emerged. Matthew Kuhl '90 was among those who saw beyond the fallow land to the potential.
Kuhl is the project manager and structural architect for the Waterfront Botanical Gardens, a 23-acre plot of land along the Ohio River just east of downtown. The gardens, once completed, will consist of carefully crafted landscapes and buildings designed to showcase natural beauty.
With Kuhl's help, the space is being given new life as a beacon of sustainability and model of botanical potential. 
Bringing nature to the forefront
The project was started largely because of the generosity of a local gardener, Helen Harrigan, who established a trust that benefitted Botanica, an organization dedicated to educating the community about the botanical world. Harrigan wanted to see a botanical garden and conservatory built in Louisville. Many in Botanica — and beyond — agreed that such a project could only enhance the city since Louisville was one of the largest U.S. cities lacking a botanical garden, Kuhl said.
Perkins and Will was selected in 2014  to lead the master plan for the massive green project. Kuhl has spent the past 12 years with the global architecture and design firm.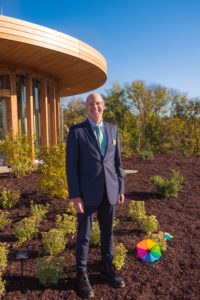 Now living in Chicago, he had been keeping tabs on the possible progression of the project for years. Kuhl joined forces with Zan Stewart, a former UofL student, native Louisvillian and landscape architect in Perkins and Will's Atlanta studio, with the goal of becoming the designers for this project.
"Very early on, [Zan] as a landscape architect and I as an architect local to Louisville decided to really go after this project to win the bid, and we were successful," Kuhl said.
Kuhl's architectural designs hold to the principle that "responsible design means that both building and landscape are woven into the scale and texture of the city." When planning for a project, he uses the surrounding area to further the impact of his vision.
Kuhl's architectural fingerprint is prominently visible on the Graeser Family Education Center he designed, which will inform guests of all ages what they can do to benefit the environment and will serve as a venue for a variety of social functions.
"I think visitors will find this a jewel box of a structure nestled in a landscape that sits on top of an old (land)fill," Kuhl said. "My hope is [the Center] will create a feeling in the landscape that cures this blighted area of the city to, in turn, create this place of beauty that everyone can enjoy."
Bringing work home
Kuhl, who earned his degree in art history from the College of Arts and Sciences, was deeply influenced by Will Morgan, a former professor at UofL. It was in Morgan's classes that Kuhl honed a passion for design, and he shaped this passion into a career in architecture.
"I had a group of mentors who really helped me," Kuhl said. "Will Morgan taught architectural history and he took me under his wing. He probably knew what I wanted to do before even I did … He pushed me in all of the right directions and helped me get into graduate school."
Following graduate school and five years of working in Louisville, Kuhl moved to Chicago in 1998 and eventually earned a position at Perkins and Will in 2007. Still, he has always kept his hometown in mind and jumped at the opportunity to work on something so close to home.
"I've always missed Louisville. I still have family and friends that live here," he said. "I've been looking for a way to come back on a professional level."
Stewart, who attended several summer classes at UofL, said, "It's a big deal just to give back to the community that I was born and raised in … It's just amazing to be back."
Another positive to Kuhl's and Stewart's involvement in the project is that it allows them to help the city's sustainability efforts. Kuhl designed the education center with the capability to one day be a net-zero structure, where the energy used is roughly equal to the energy produced, complete with a ground source heat pump and strategically placed windows to take advantage of natural light while also using the outside temperature to its best advantage.
The first phase of the project has been completed, but more work is set to begin in spring 2020, with Kuhl and Stewart continuing as key team members for the project that includes adding more landscaping and building additional structures. Future visitors can look forward to exploring the wild, natural beauty of the Pollinators' Meadow, receive hands-on experiences in the Edible Gardens, and get a bird's-eye view from atop a grand overlook. These are just a few of the many pieces planned for the coming years in an effort to bring beauty and purpose to a previously underutilized space.
The Louisville project garnered national attention when the U.S. Botanic Garden included it in its "Celebrating New American Gardens" exhibit showcasing 21 garden projects across the U.S. Renderings of the Waterfront Botanical Gardens were on display in Washington, D.C.  from January 2019 through mid-October.
"We are here this morning to celebrate a grassroots effort spearheaded by regular, but extraordinary folks in our community," said Jon Salomon, chair of the Botanica board of directors, during an Oct. 4 ribbon-cutting ceremony marking the completion of first phase of the project, including the Graeser Family Education Center. "Because of our committed believers, a landfill is being transformed into a landmark, one that will drive tourism, promote economic growth and further education and appreciation of our natural world."