As models glided down the makeshift runway at the gym of the Cabbage Settlement House in everything from sleek black numbers to colorful avant-garde pieces to ethereal white gowns, every eye was on them.
Especially designer Frances "Frankie" Lewis's.
Watching her creations pass by was another step in a design journey that began in the costume workshop at UofL's Thrust Theatre nearly a decade ago.
Lewis, who graduated with a bachelor's in theatre in 2011, took her wardrobing skills to Bravo's "Project Runway" in 2018. Her time on the show was brief, but designing is a lifelong dream. As a way to give back to the community where it all started, she hosted "Frankie's Fashion Experience" to benefit the settlement house.
When she needed help to make her show a reality, she returned UofL and turned to some of her favorite fashion influencers: Three of Lewis's fellow designers from Project Runway and faculty members Zhanna Goldentul and Melissa Shepherd. Students from the UofL Costume Shop also got some life experience by assisting with many of the pieces for the event.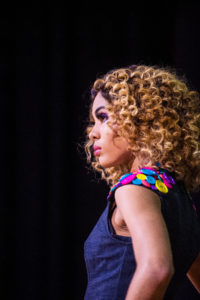 Buried beneath yards of flowing white fabric, mountains of assorted buttons and tendrils of colorful accents, Lewis's team worked tirelessly to bring her vision to life.
Storytelling in style
The show took place on Oct. 12 and featured Lewis's collection, "Resurrections," which draws inspiration from a seed's journey from the depths of the ground into the light.
"It's not just clothes on the runway," Lewis said. "This runway talks [the audience] through this process where things start out really dark. Where you feel like you're stuck and don't know which way to turn, but there's always this burst of light that comes through."
Among the moments of light in Lewis's own life was her stint on "Project Runway," a fashion designing competition where designers from across the country compete for prizes. "My 'Project Runway' experience was crazy, and it was like being struck by lightning," Lewis said.
Lewis had just moved to California to pursue a career in the fashion industry when she was contacted by recruiters from the show. After multiple rounds of auditions, Lewis earned her place in the competition but ultimately was eliminated in the second week of the contest. 
"The thing that I've taken away from 'Project Runway,' and that I end up taking from almost everything that I do, is that people are most important. It didn't matter about winning or how far I got, or any of that really. It's the people that I met and the connections I made," Lewis said.
Those valuable connections enabled her to convince fellow "Project Runway" designers Nadine Ralliford, Kovid Kapoor and Tessa Clark to showcase collections of their own at "Frankie's Fashion Experience." To get all of their designs executed, they turned to Lewis's other inspiration: UofL.
Sewing more than clothes
A team of five theater students were hard at work in the costume shop the week of Frankie's Fashion Experience. Some attached trims, some sewed buttons and others fit garments to their model's dimensions. Lewis, Goldentul and Shepherd offered helpful tricks of the trade.
"It is super exciting to be working with Frances on this. She always has some really cool stuff," said junior Lauren Moody. "We have been getting to do and learn so many things that we don't normally get to do in the costume shop."
Lewis is somewhat of a regular in the costume shop as an alumna. She has returned to visit students before to share her experiences working on P!nk's Beautiful Trauma tour and with the Louisville Ballet.
"When Frances is here it's extremely inspiring for us, for me personally and for my students," Goldentul said. "It's really beneficial every time she comes back with her new ideas and new experiences."
In fact, some of Lewis's most cherished memories are at UofL, especially her time with Shepherd and Goldentul.
"My relationships with Melissa and Zhanna are invaluable to me," Lewis said. "Here I am, in need of a place to work and people to cheer me on so that I can keep going. And they have always been here to do that."
No matter what she's designing, Lewis takes inspiration from her alma mater. On her arm is a tattoo with wise words from Shepherd, one of her mentors. The tattoo offers Lewis a good reminder whenever she needs it: "You are made of magic."
And now she makes it herself.