Louisville photojournalists at the Courier Journal are witnesses to history as it happens, and their documentary talents take newspaper readers along for the illuminating experience.
And now – thanks to the generosity of the newspaper, its parent company and a former publisher's daughters – much of that significant past will be preserved at UofL Libraries, where people can enjoy those views as a resource in the future.
The downtown paper and Gannett Co. Inc. donated millions of prints and negatives to form the Barry Bingham Jr. Courier-Journal Photographic Collection, nearly doubling the holdings of UofL Libraries' Photographic Archives. A monetary donation from Emily and Mary Bingham honoring their father's devotion to photojournalism will expand Ekstrom Library's cold-storage capacity to house the collection safely (on the site of a former photo darkroom) and will help endow a specialized position to support it.Processing the collection within about 3,000 boxes will require time, staff and more fundraising to organize and describe the images before they can be made available to the public in the next few years.
"We're really excited about it but there's a lot of work involved in making it available to the public, and we want to do it right. It is massive," said Carrie Daniels, Archives and Special Collections director.
Bingham (1933-2006) was third in his family to be publisher of its newspapers, The Courier-Journal and Louisville Times, from 1971 to 1986, before they were sold to Gannett. Two photography-related Pulitzer Prizes, in 1976 for feature photography and in 1980 for international reporting, were awarded to the Courier Journal during his time at the helm.
The extensive collection extends before and beyond his tenure, with pieces from the 1930s through the late 1990s and 2000s, when the industry switched over to digital photography. As such, it spans wartime, civil rights demonstrations, presidential visits, natural disasters, the Kentucky Derby over time and behind-the-scenes views of celebrities and ordinary folks, including some never-published photos.
"Basically, all of the changes happening within our country were captured in these photographs," Daniels said. "It's a wonderful collection."
Since the collection is still being prepared for public viewing, UofL Magazine asked Elizabeth Reilly, Photographic Archives curator for Archives and Special Collections, to share some of her picks from the archives to give readers a peek at what will eventually be available. The following images illustrate the impact of photojournalism and the richness of the collection.
It was a festive first in March 1980 as Courier Journal photographer Jim Mendenhall captured an image of UofL fans climbing on the roof of the team's bus after the school won its first NCAA basketball championship. "It represents just how much University of Louisville content is in the collection – all sorts of newsworthy events and, of course, our sports teams – highlights and lowlights and everything in between. That's obviously important to us at the university," Reilly said.
The reason the collection begins in the 1930s is that the 1937 flood damaged most of the Courier Journal's photographic collection up to that point. The George Bailey photo of a rescue boat operation at the Hoblitzell home during the flood shows the scale of the disaster and recovery efforts, Reilly said. "What is so significant is that the flood was one of the major events in Louisville, certainly the major natural disaster for many Louisvillians up until the tornado of 1974."
Larry Spitzer's May 27, 1968, photo shows National Guard troops patrolling west Louisville during the Parkland neighborhood civil rights uprising and will add to documentation and resources about Black history. "This is a really significant image because it documents the social upheaval happening here in Louisville in the 1960s and 1968 in particular," Reilly said. "We've had researchers looking for images of this happening in Louisville, but we never had them. It's definitely material that researchers will be interested in." Such newspaper photos help archives collect and expand the stories of more underrepresented communities, she said.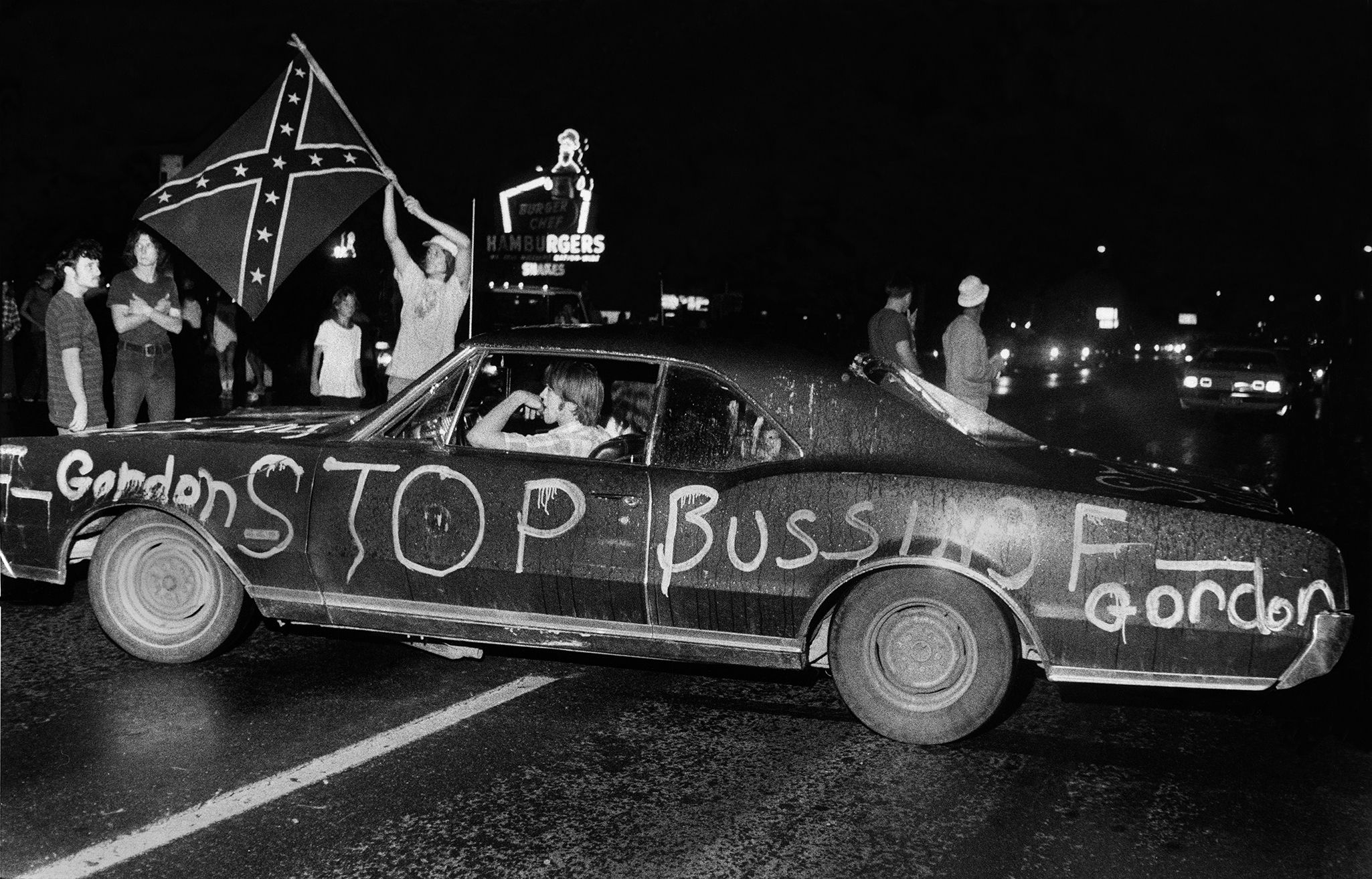 A September 1975 photo by Melissa Farlow shows anti-busing demonstrators snarling Valley Station traffic by parking their cars across Dixie Highway and forcing police to reroute motorists. The Courier Journal won a Pulitzer Prize for feature photography in 1976 for its coverage of Louisville school desegregation and citizen protests over it. "It's a great way to look back on the history of the city and struggles it went through and where we've come since then and what have we learned since then," Reilly said. "It shows the emotion of the protests and events surrounding busing."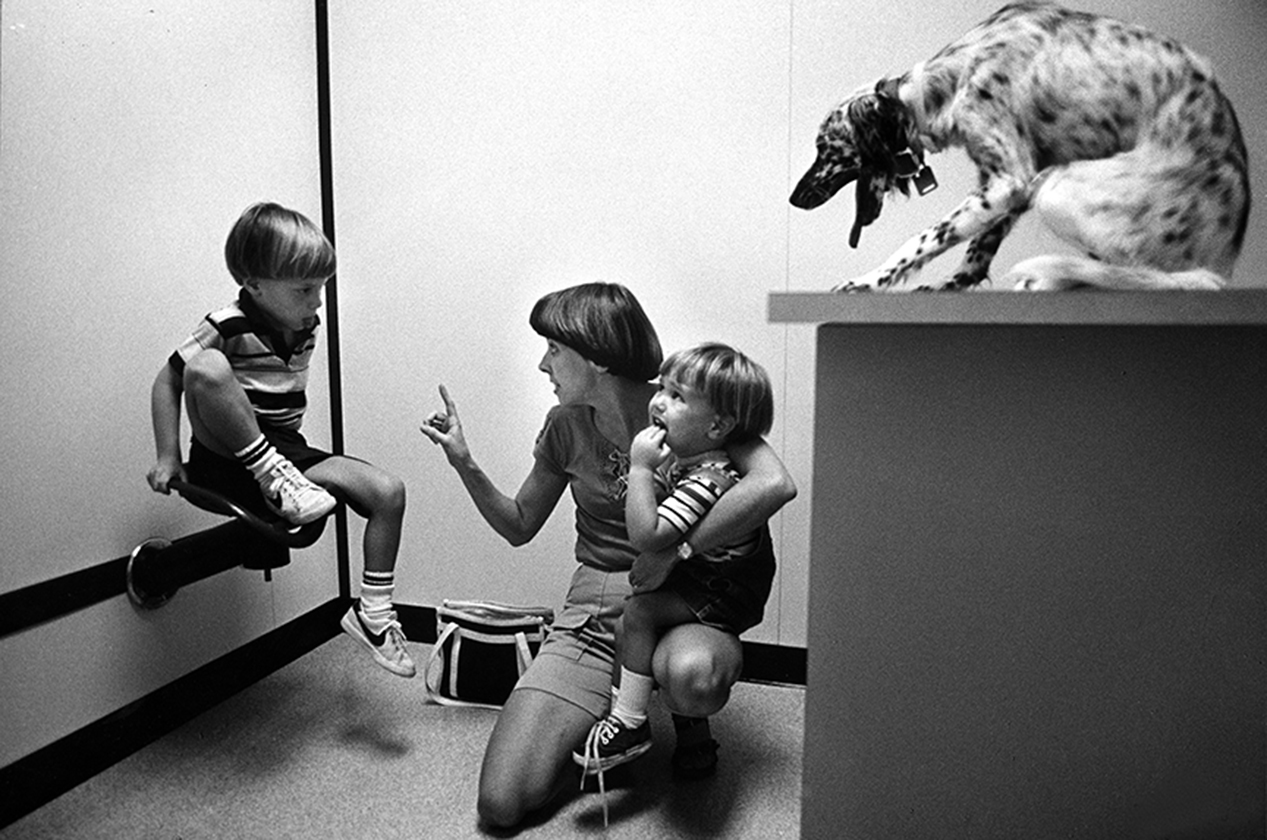 "This illustrates how Barry Bingham Jr. sort of allowed the photographers to really explore more local-interest stories and really dig deep in and spend time to tell wonderful stories," Reilly said. "Bingham really was a proponent of in-depth photography and photographic essays." Photographer Pam Spaulding in 1982 caught Judy McGarvey with sons David and Morgan during the family's trip to the veterinarian with their dog. Spaulding set out to document a family adjusting to first-time parenthood; those regularly published newspaper views of the McGarveys continued with her chronicling the family for more than 40 years."
The collection is chock-full of views of horses at Churchill Downs on the first Saturday in many, many Mays, but Reilly liked this Larry Spitzer photo of a fire at another local racetrack, Miles Park, published May 18, 1964. "This still shows the horse industry and racing industry important to Kentucky and documents a really dramatic event that happened. I feel like this is a special photo that stands out among the regular Derby photos," she said.