Andrea Wilson always wanted a career in the bourbon industry. With the resurgence of Kentucky's signature spirit, the UofL-trained chemical engineer was able to snag her dream job after nearly 20 years of working.
Marianne Barnes also graduated from UofL with a chemical engineering degree. She expected to find work in biofuels, but instead is helping bring an abandoned Kentucky distillery back to life.
Joyce Nethery used her chemical engineering training to work in indus­trial distilling, teach high school and become chief financial officer of a dairy farm. But when she combined her education with her passion for heirloom vegetables, she put a new Kentucky artisan distillery on the map.
Katherine O'Nan will graduate in May with her degree in chemical engi­neering. Following in the footsteps of Wilson, Barnes and Nethery, she is poised for a promising career in an industry that 40 years ago wasn't on the radar for female graduates of UofL's J.B. Speed School of Engineering.
Now, much to the delight of the women featured here, Speed School chemical engineering alumna are leading the charge in Kentucky's bourbon industry, taking their science-based education to the distilleries and labs across the state.
"I sure hope that this boom in the bourbon industry attracts more young women to STEM careers," O'Nan said. "You've got to show the fun side of STEM coursework especially to young girls who often hear it's not for them. Making bourbon for a living is certainly a fun take on a chemical engineer's career."
The Char Connoisseur
Andrea Wilson, 96GS, 97GS
Master of maturation and executive vice president-general manager, Michter's
Andrea Wilson is the Michter's master of maturation, a relatively newer title for anyone — woman or man — in the Kentucky bourbon distilling industry. Wil­son works hand-in-hand with the distillery's master distiller (also a woman, Pamela Heil­mann) to ensure the aging process of the bar­rels is doing its part to end up with the exact bourbon they have in mind.
"Having two masters is a recognition of the fact that there are two very distinct phases of making Kentucky bourbon," she said.
"I look after all of the cask — every­thing from procurement of cask, deciding the toasting, the charring, the warehouse environment, designs of warehouses, equip­ment, monitoring of liquid temperatures, as well as supporting our master distiller with defining new innovations and doing trials and supporting all the needs that she has to deliver the highest quality products," Wilson said.
Wilson calls it "wood science."
"The vessel is so much more than just a container," she said. "It is the catalyst for many chemical and physical changes that ultimately will determine the final color, fla­vor and aroma of the product."
Wilson, a Louisville native, was exposed to distilling at an early age. Her grandfather, who grew up near the Maker's Mark distill­ery in Loretto and made his own wine and beer, passed along stories from the days of Kentucky moonshiners.
"My grandfather would sit in his lawn chair and he would tell us these stories. For me, it was this very enchanting thing. Over the course of my life, I wanted to be in the spirits industry," she said.
The problem was she didn't know how to get there.
"There was no distilling school, so that was the most challenging thing for me, that I couldn't find my way," she said.
She decided "the best thing to do was to go into chemical engineering because that included the distillation process and how you develop products through chemistry."
Wilson started her college career at Jeffer­son Community and Technical College, then transferred to Speed. After her graduation in 1996, however, the bourbon industry was stagnant and jobs were scarce.
Wanting to stay in Kentucky, Wilson found steady work as a consultant for differ­ent types of manufacturers. While doing con­tract work for UK-based Diageo, the world's largest producer of spirits, Wilson was asked to manage the resurrection of warehouse operations at the former Stitzel-Weller dis­tillery in Louisville. After the company downsized and her position was eliminated, she was asked to join Michter's, which was being resurrected by the Magliocco family.
"I thought, 'This will be a great opportu­nity to be a part of leaving a legacy and build­ing a brand,' " she said.
Wilson knows it is unique that both she and the master distiller at Michter's are women. "And while we don't care much about being called out as women, I recognize that women are now being recognized for their contributions to this industry," she said.
The Queen of the Castle
Marianne Barnes, 12S
Master distiller, Castle & Key
She's not quite 30 years old, she's a woman and she's not shy, making Castle & Key Master Distiller Mar­ianne Barnes another clear indicator that Kentucky craft spirits are focused on the future, not just living in the past.
In 2015 when she joined Castle & Key, Barnes became the first woman since Prohibition to be named master distiller in Kentucky. Her job is to come up with the products that will revive a long-abandoned spirits company and distillery in Frankfort that is being meticulously restored.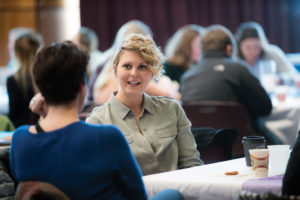 She is loving every minute of the jour­ney, but she didn't know that having a career as a master distiller was even a pos­sibility until she interned at Brown-For­man as part of her Speed School education.
"If I had seen someone in this position maybe I would have known this was pos­sible for me," Barnes said.
Barnes decided to major in chemical engineering at the urging of her father. After taking some time between high school and college to help her mother open a boutique, she attended the Speed School and earned her bachelor's degree in 2012.
Always interested in automobiles, Barnes originally thought she'd go into the biodiesel industry.
"I really thought I wanted to do renew­able energy research," she said. "I had a lit­tle bit of an automotive background and I really wanted to save the world. I thought renewable energy would get me there."
That all changed after she went to a Speed School career fair, where she interviewed with as many companies as she could to find an internship. One of the companies happened to be Louis­ville-based Brown-Forman.
"That was the one everyone wanted and I was lucky enough to get the offer," Barnes said. "The co-op program can put you on a path you didn't expect. I started working with them as an intern and I ended up falling in love with the industry."
Pumps, heat exchangers, blending and filtration: the industrial distillery side of the operation grabbed her attention. And, slowly, that interest developed into a passion for distilling spirits.
Barnes was on a fast track at Brown-For­man. She was Woodford Reserve's first master taster and master distiller heir-ap­parent when two friends who planned to house a new distillery in the historic Old Taylor Distillery in Frankfort lured her away. She left her role at Brown-Forman to help lead Castle & Key.
Castle & Key hasn't put out its first bourbon yet — look for it in 2020 — but instead started with a gin. There's a gar­den, the Botanical Trail, on the property for herbs and such, so Barnes can play with flavors and put her chemical engi­neering degree to work.
"[Distilling] is more than just num­bers … It's a living thing really because you have the yeast and all these other tem­peratures and times and environments that shape what the flavor is going to be," she explained. Then there's the aging, the "mysterious magic at the end."
The Matriarch of 'Ground to Glass'
Joyce Nethery, 85S, 87GS
Master distiller and co-owner, Jeptha Creed
It was late afternoon when Louisvillian Charles Theiss sat down at the bar at Jeptha Creed Distillery in Shelbyville and glanced at a menu.
"I went to Speed, too," he said to the woman behind the bar, "graduated in 1973." Joyce Nethery smiled. It wasn't unusual for a fellow Speed School alumnus to patronize the charming distillery she opened in 2016 and owns with her daughter, Autumn.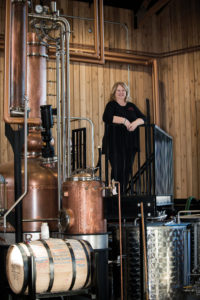 What was unusual is how she ended up perfecting her own small-batch moonshine, bourbon and vodka after earning an engi­neering degree in 1987 because she thought making hot dog wrappers was a cool way to earn a living. Her journey from hot dog wrap­pers to a family-owned distillery started when Nethery was a freshman at Murray State and visited her aunt's place of work. Her aunt also was a chemical engineer and worked at a plant that made mylar for hot dog wrappers.
"I just fell in love with the concept of mak­ing something and being involved with pro­ducing something that people used in their everyday lives," Nethery said.
After graduating from Speed, Nethery had a varied and rewarding career working in the industrial distillation unit for a chemi­cal manufacturer, then taught high school physics and chemistry and was chief finan­cial officer of her husband's Shelby County dairy farm.
But when the dairy farm didn't work out, it was her entrepreneurial husband who had the idea to build a distillery along Interstate 64 in Shelby County. Nethery wasn't so sure, but she attended Moonshine University — a six-day crash course in distilling offered in Louisville — in January 2013. And that's when it clicked.
"I fell back in love with my engineering," Nethery said. "I could see this vision for this ground-to-glass distillery, that we had a story from our agricultural roots and, with my engineering, we could distill it into a value-added product. I came out of the class with that vision."
Jeptha Creed sold out of its first tiny batch of bourbon and makes flavored moonshine and vodkas. Next year, another bourbon will be ready. The Nethery family uses an heirloom corn called "Bloody Butcher" that they grow themselves on their farm.
"I grew up here and was always surrounded by bourbon, but to have our own distill­ery and to distill bourbon was not a thought that I had when I was going to school," Neth­ery said. "My vision was to go into the petro­leum industry, the chemical industry, and work those kinds of things. And that's what I did. And then it … came full circle back to my engineering, back to bourbon."
Like her fellow alums, Nethery talks about the finer points of distillation in great detail. There's corn and rye and barley and wheat. There are cookers and agitators and pot stills and shelves and coils and valves and direct steam injection. There are starches and enzymes and yeast and sugars. She watches it all, with the help of her family and computers.
"We are about making old fashioned new. Corn is old fashioned. Moonshine is traditionally done. But we want quality to be consistent, so we also have new, like a com­puter system that is programmed to make sure valves open when they are supposed to open, close when supposed to close and that temperatures are correct," she said.
Nethery is frequently asked what it is like being a woman in the chemical industry and, now, in the bourbon industry. "I never thought about it a whole lot," she said. "You know, I always wanted to do the job and do it with excellence."
The Up-and-Comer
Katherine O'Nan
Speed School Class of 2018
When Katherine O'Nan was in high school in Ashland, she was taking all science, math and engineering classes. She was frequently the only female in the class, and she couldn't understand why.
Five years later, through dozens of Speed School courses, three internships and plenty of discussion with her fellow female Speed School students, she knows why and she has some ideas of how to fix it.
The May graduate, who will receive a masters of chemical engineering degree, says young women need to see that STEM (Science, Technology, Engineering, Math) careers can be fun. They also need more female role models. O'Nan was lucky in that regard. She interned at Michter's under Wilson and Heilmann.
"Girls have to see themselves in the indus­try in which they want to work. Up until recently, there were only male master dis­tillers in the industry," O'Nan said. "I have been very fortunate to work alongside strong women in the bourbon industry: Two prominent roles at Michter's … are both filled by females."
When O'Nan first thought about an engi­neering career, she envisioned herself work­ing in the petroleum industry (she interned twice at Marathon Petroleum). But her inter­est in distilling, which started with her craft-beer enthusiast father, sparked her curiosity. A Brown Fellowship in hand, she traveled to Scotland, then to Canada, to see how they made their whiskeys.
"I knew chemical engineering could mesh well with the distilling industry," she told her hometown newspaper, The Independent, for a feature it published about her. "The focus is more on full-scale production than being a chemist in a lab."
Then O'Nan, like Nethery, took the Moon­shine University course, which led her to an internship at Michter's. At Michter's, she "was able to learn a lot about whiskey fil­tration processes, how a distillery and its equipment operate and concepts about how whiskey ages in the barrel. My time at Mich­ter's taught me just how many people it takes to get from that grain to a quality bottle on the shelf."
She credits the Speed School's emphasis on practical learning through co-ops with giving her the "deeper understanding" of her coursework that she needed to feel confident pursuing her dream career in distilling.
O'Nan is counting on the bourbon industry needing more and more people as she makes her future plans. Especially more female chemical engineers.
"It is my hope that these women by whom I have been inspired — and even myself when I get the opportunity to be out in the work­force — will continue to lead by example and show young girls that they can do this work, too."