When you think of UofL sports, a few specific images may come to mind: our basketball teams balling in the KFC Yum! Center, the football team kicking off at Papa John's Cardinal Stadium or our swim and track stars racing to NCAA titles.
But the full story of sports at UofL doesn't end with varsity teams. The university's Sports Club program, which operates under the oversight of the Intramural Recreational Sports department, has skyrocketed in recent years. In 2002, there were six club sports. Now, there are 24 with more than 400 students participating in clubs that range from aikido and bowling to table tennis and ballroom dancing.
Some of these teams, including ice hockey, lacrosse, volleyball and rugby, are highly competitive, with rigorous practice and travel schedules. They often represent the university at the top levels of college club athletics. Just this spring, the UofL Men's Volleyball Club became the first from the school to claim a national club sports title, winning the National Collegiate Volleyball Federation Division 1-AA National Championship in St. Louis.
The bowling team won its first tournament this year, and men's lacrosse was a runner-up in its conference division. The rugby team was the 2018 Mid-American Conference champion. Last season, the hockey club finished with its best record and won a third straight playoff conference championship.
Winning more than trophies
The accolades go on and on, but Sports Club Coordinator David Rice defines success differently. "I tend to think of success as consistently being a positive presence for the students," he said. "That's as good as winning a national championship."
Research shows that being engaged in groups such as club sports bolsters
student success and retention.
"It gives them a place to relieve stress, meet people, interact, work out and do something positive with their time instead of destructive, because we all know that college students can get off track," Rice said. "That's where a lot of our positive impact comes from."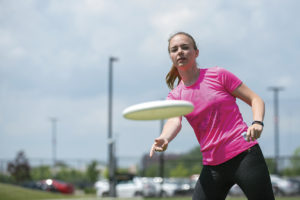 That was true for Brittney Tooker, a senior psychology major who is captain of the women's Ultimate Frisbee team. She joined to stay fit and meet people but she ended up falling in love with the sport and making many close friends. A native of Elizabethtown, Kentucky, she'd like to stay in Louisville after graduation because her Ultimate Frisbee connections mean so much to her. 
"It definitely changed the way I see campus," she said. "It opened doors for me and helped me meet people and challenged me to be more outgoing."
Club sports allow some students to continue competing even if they can't play at the varsity level. Rice said there are more than 8 million high school athletes in the U.S. Of those, only 420,000 play at the NCAA level.
"That's where we come in," Rice said. "They want to keep playing. It's the love of the game."
And, there are numerous sports UofL's athletic department doesn't sponsor at the varsity level, such as men's volleyball. Before college, senior engineering student Sam Bibelhauser played volleyball for St. Xavier High School in Louisville and for the Louisville Fury Volleyball Club. When he got to UofL, he noticed there were several good players from those programs here.
"I was looking around thinking, 'We have the tools; why don't we have a team?' " he said.
He worked with the Department of Intramural and Recreational Sports to get one started. Now, three years later, with a national title in the bag, Bibelhauser looks back and sees value in all the work he and his teammates put into creating and leading the club. When he was interviewing for different co-op opportunities for next year, he found himself telling stories about his experiences with volleyball. He ended up landing a co-op with NASA.
"It was a lot of hard work, there were obstacles — for me and the club — but we worked through them together, and that experience is irreplaceable," he said. "It's made for great memories. It's a totally student-run organization, and running it with the team's executive board made for a great life experience."
Tackling the challenge
The commitment — in time and money — is significant. Clubs are on their own for expenses, including equipment, travel and fees. Hockey Coach Brian Graham said each of the 25 players pay $3,000 in dues every season. Much of that goes to pay the $280 hourly rate at the Iceland Sports Complex where they train and play.
To reduce costs for players, the team raises $40,000 to $50,000 each year selling jerseys, tickets, T-shirts and other merchandise, along with what sponsors give. Graham, whose day job is in insurance, volunteers 20 to 30 hours a week running the club. He actively recruits, with all but four of his players coming from out of state, and one from as far away as Alberta, Canada.
"It's a passion project," he said. "I love it."
Still, he can't help but wish for funding assistance for his players, or for a rink on campus where UofL students could come and cheer for the team. The club often draws 700 fans for home games and sells out for the raucous UK match.
"The guys are treated as athletes on campus," Graham said, not "club athletes."
Rice said he'd like to be able to offer club funding, too, or at least have fields with artificial turf for the clubs to host matches. Currently, teams vie for use of the SGA Intramural Sports fields behind the Speed School, but those aren't available unless weather is good.
Clubs must often pay for space or play in parks, where the fields might not be in ideal shape.
Still, students say the chance to play the games they love, at the prime of their athletic abilities, is worth the sacrifice.
"It's absolutely changed my life," Tooker said. "It's meant everything to me."